Product Description
There's no reason to go out of touch with your loved ones or the world just because you are on a road trip. This 20000 mAh Intex power bank will keeps your devices charged and running.
Built-in Li-polymer Battery
This power bank's BIS-certified 20000 mAh battery is durable, has a good charge retention, and is performance-oriented. The power bank's slim and lightweight design make it convenient to pack and carry around.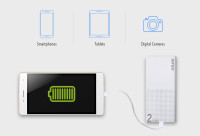 Never Stop
You can put your fear of missing out to rest, because this Intex power bank charges smartphones, tablets, and even digital cameras on the go.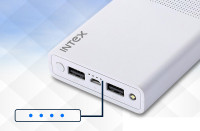 Stylish Design
The power bank's minimalistic and clean look make it a classy accessory. The LED indicator shows you details about the power bank's charge.
Durable
The high-quality internal circuits on this power bank ensure your safety when using it.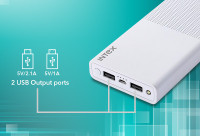 Fast Charging
This power bank has two USB output ports so you can charge two devices at a time. The device's fast charging input helps the power bank charge quickly.